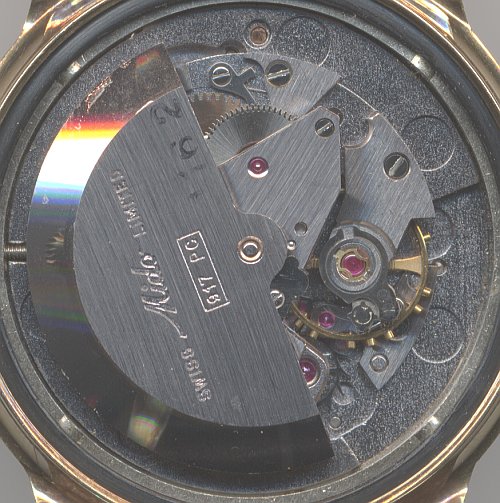 https://17jewels.info/movements/m/mido/mido-917pc/
The "Powerwind" caliber 917 debuted in 1954. Like all Mido movements, it is not a true inhouse caliber, but an AS ebauche, exclusively produced for Mido.
The Cal. 917 used a rotor mechanism, which winds efficiently in both directions and gives enough powers even when not worn very long.
The movement is a quite standard 17j movement with indirect center second hand and date indicator without fast-setting mechanism.
To achieve best precision rates, Mido used the Incastar system, which allows a free swinging hairspring without inprecise regulator pins. The effective length of the hairspring is set with the knob, which clamps the hairspring between two roles. Because of that, the beat synchronity has to be adjusted in a second step, too. Since this is a bit time-consuming, the interesting Incastar mechanism was not used in many consumer watches, but only in better watches.
https://en.wikipedia.org/wiki/Mido_(watch)
https://uhr24.de/uhren/mido/mido_history_en.pdf
1954: Invention of the "Powerwind" winding system – simplification
in design from 16 to 7 parts. In addition to the simplified
design, this movement also had a longer running reserve
and was deemed to be one of the most easiest watches in
the world to service and was also one of the least prone
to faults.
1957: Mido's main supplier, Rohwerke A. Schild SA, handed over a certificate to Mido
testifying that 1 000 000 automatic raw material parts had been supplied!
Remarks
1954-1960
exclusively for Mido with base plate of the AS 1131/1132
option: black rhodium plating (charcoal, slight mauve)
option: Fonto regulator with mobile stud carrier and adjustustable regulator pin-width
The only large-scale produced regulator featuring a free oscillating hairspring. The end of the spring is fixed between two rollers, adjusting actually its length (Fig.4, 5). No isochronism error by the gap between the regulator pins.
family/generations:
10.5"':
00916P: rotor, sub second
00917P: rotor, sweep second
11":
0915: manual wind, sweep second
0916: bumper, sub second
0916P: rotor, sub second
0917: bumper, sweep second
0917P: rotor, sweep second
0917PC: rotor, sweep second, date
12"':
916P: rotor, sub second
917P: rotor, sweep second
917PO: same, especially for Ocean Star
917R: same, extra quality
917PC: rotor, sweep second, date
917PCO: same, especially for Ocean Star
917RC: same, extra quality
12.5"':
916: bumper, sub second
917: bumper, sweep second
http://www.ranfft.de/cgi-bin/bidfun-db.cgi?10&ranfft&&2uswk&Mido_00917P
To be continue…
HIGH BEAT
https://vinmov.com/category/movements/08-mido-movements/